Carmelite Vision of Education
A man lights the candle without going off his own is knowledge.
"Every man of whatever race, condition and age is endowed with the dignity of a person and has a right to an education." GE1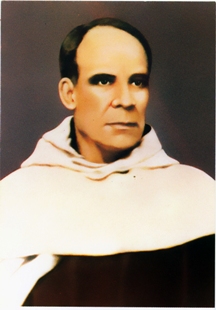 The Carmelite Missionaries Congregating is a religious Congregation founded in 1860-61 by the Discalced Carmelite Blessed Francisco Palau Y Quer, to accomplish a special mission in the Church. He was a great visionary who felt the urgent need of education. He considered it as most efficacious forms of service to the humanity.
He felt there was a need for broad, deep renewal of pastoral action, and he set to work. He rapidly planned and organized his "School of Virtue." It was a revolutionary undertaking and was solemnly opened on November 16th, 1851.
For him true education aims at the promotion of the human person with respect to his ultimate goal and simultaneously with respect to the good of those societies of which as a man he is a member and in whose responsibilities as an adult he will share.
We are convinced that the aim of all education is the formation of the human person for the fulfillment of his individual and social responsibilities. Christian education further aims at his growth into manhood according to the mature measure of Christ. Conscious of these aims of human and Christian education we try to give an excellent and all-round formation to the students in our educational institutions. We concentrate more on quality than on quantity and foster good inter-personal relations. In this process we are conscious that our exemplary life always remains the most important factor in our educational apostolate.
Considering the fact that in education we share the responsibility of the nation. We make special efforts to co-ordinate on education activities with aims and goals of the nation so that our students may grow up as responsible citizens fully involved in the task on nation building.
Drawing inspiration from the Founder Fr. Francisco Palau Y Quer the Carmelite Missionaries all over the world today run schools, colleges, universities, hostels, formal and non-formal education centers - breaking barriers of caste, class or religion. This calling requires extraordinary qualities of mind and heart extremely careful preparation and constant readiness to begin a new and to adapt.
It is with these twin aims that we have entered the field of education. We the C.M. after the example of our founder consider education as the integral formation of human person for the fulfillment of his/her individual and social responsibilities.
Two centuries of this apostolate the following statement is issued as C.M. policy We aspire towards creating a just and human society where dignity of the human person is respected where unjust social structures are challenged where our cultural heritage religious harmony and national integration is upheld and where the poor and the marginalized are specially taken care of.
Our education endeavors aim at formatting leaders who are intellectually competent, spiritually mature, morally up right, psychologically integrated, physically healthy and socially acceptable who will champion the cause of justice love truth and peace and who are ever open to future growth.
The secret of the success of our education institutions is community of teachers who are committed to their vocations, professionally competent, morally upright, just and humane in dealing, culturally sensitive and who grow in the true vision of education.
Our institutions are open to all students irrespective of cast and creed. They are accepted and cherished as they are and are helped to grow in their culture, social and religious traditions. They are privileged to be in our institutions. They will also have the right to get acquainted with the person of Jesus Christ and his Gospel. Being institutions established and administered by and for a minority community based on religion we will give preference to Christians in admissions and appointments. Today, we commit ourselves to be creative and dynamic in teaching-learning process to form students with love and compassion to inculcate in the student a spirit of freedom and fellowship, mutual respect and service, care and concern for each other. We equip students to become honest citizens who are rooted in their culture, open to other cultures and responsible to transform the society. We focus on developing leadership qualities in the students which enables them to be responsible persons who make valuable contribution towards the progress of the nation.
For the realization of this C.M goal of education we invite students, parents and teachers to share this vision and to cooperate with us.