Principal's Desk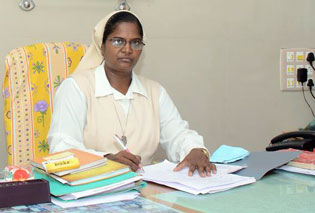 Carmel Convent School Junagadh is a Catholic School committed to the educational & spiritual traditions of the Carmelites.
The purpose of education imparted in our school is not merely to prepare the students for examination but for life itself. As we understand, education is not an end in itself, but rather a means to help a person to think and make decisions about ultimate values, one's relationship with God, one's personal goal and one's commitment to others. Irrespective of one's cast, creed and code, everyone is given equal opportunity to be a beneficiary of this institute.
Academic excellence, all round development, fostering of ethical and religious values and developing a sense of social responsibility and sense freedom are some of the characteristics of education imparted in Carmel Convent School.
We have just completed our golden Jubilee and are now marching towards the platinum celebration. 75 years of service in the field of education is a big contribution to the humanity.
Activities
Updates